Thank You Portrait Project Volunteers!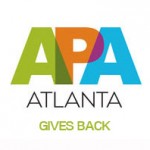 Portrait Project 2015 was a success! All of this was possible through the generous efforts of our steadfast sponsors. Capture Integration will donated use of their cameras, lighting, and computers. Fine Imaging printed and delivered the portraits.
APA|Atlanta would like to extend a heartfelt THANK YOU to our volunteer photographers. We are also grateful to our HMUAs and assistants and would like them to stand up and be recognized.
HUMAs:                                         Photo Assistants:           Production Assistants:
Faith Brooks – 6th year               Wilder Smith                   Cate Rauschenberger
Amy Elizabeth – 3rd year            Naomi Smith                   Brock Shanks
Kathleen Marsh – 3rd year          Johny Hoffman               Selena Koliopoulos
Deborah Carr – 2nd year                                                         Stephanie Eely